GENERAL INFO
LANGUAGES
English is the official language of Antigua & Barbuda. However, dialect is spoken quite often by locals.
GOVERNMENT
Antigua achieved its independence on November 1, 1981. It is a member of the British Commonwealth under a Parliamentary system with a Prime Minister as its head.
CURRENCY
The Eastern Caribbean dollar which is fixed to the US dollar - is the official currency. Exchange rate is US $1.00 = EC $2.70. The most widely accepted currency is US dollars and EC dollars, travelers checks and major credit cards.
DRIVERS LICENSE
A temporary driving permit is required for all drivers in Antigua. It is US $20. It is valid for 3 months. You may obtain one from the Transport Board, car rental agencies and police stations.
BANKS
Most banks are open Monday – Thursday: 8am to 2pm and Friday until 4pm. ABIB Bank is open on Saturday from 8am to noon at certain locations.
INTERNET AND WIFI
They are numerous internet cafes and WIFI hot-spots around the island. Prepaid internet cards are available from ACT Online at: www.act2000.net
INFORMATION FOR TRAVELERS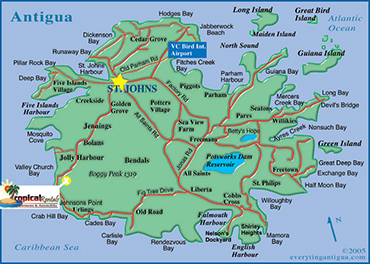 LOCATION MAP
Tropical Rentals is conveniently located on the south-westerly side of Antigua. Just 2 minutes from Jolly Harbour - the most popular vacation destination in Antigua.


MAILING ADDRESS
Valley Road, PO Box W374
St. Mary's Antigua
ARRIVING BY CRUISESHIP
Affordable, cheap car rentals - at Tropical Car Rentals. Rent a quality vehicle with us and enjoy driving around Antigua!
From the white sands of our 365 picturesque beaches, unspoiled rainforest and quaint, local countrysides, to cultural centers, shopping or dining and relaxation, there's something in Antigua for everyone's taste. Whether you want to relax at the beach, go shopping or drive around and take in the scenery, the island of Antigua offers some of the best sight-seeing in the Caribbean.
Hop into your choice of rental car or 4x4 from Tropical car rentals Antigua and take a drive out to Betty's Hope Sugar Plantation, or Devil's Bridge. You may stop along the way to enjoy the lush scenery and go for a swim at one of our crystal clear beaches.
DRIVING IN ANTIGUA
Even if you have an International Drivers License, "in order to be able to drive a car in Antigua and Barbuda you must purchase a local driving license, usually from the car hire company, at a cost of US$ 20 (EC$50). You must show your current driving license to obtain this.
You should drive with care and attention at all times. The national speed limit is 40mph and there is a limit of 20 mph in built up areas. Motorists drive on the left in Antigua and Barbuda. Main roads are generally well maintained, although they lack road markings. Pot holes, even on main roads, and poorly marked speed bumps can catch the unwary. Overtaking on blind corners and cutting corners when turning right are commonplace. Stray cattle, goats and dogs are an additional hazard. Pavements are few and very narrow so pedestrians walk on the road."
Most streets are lit at night, but not with as many street lights as in the U.K. and U.S. Recently a greater effort has been made to provide directional road signage especially to tourist attractions.
DRIVERS LICENSES
Please note that the Antiguan government requires that you purchase a temporary drivers license to drive here. Even if you are the holder of an International Drivers License you are still required to purchase one. They cost $20 US or $50 EC whether you purchase it from us, the police station, or the Transport Board. We pre-purchase them for your convenience. They are valid for 3 months and the agent will need to see your valid license from your country of residence to issue the temporary one. We accept cash for the licenses.
GAS STATIONS
There are quite a few gas/petrol stations throughout the island. Some are full service stations that provide tire changes/repair and other services and others are mainly to get gas/petrol/diesel. In Antigua the service station attendant pumps your gas. You do not pump your own gas. You simply tell them how much you need and they will take care of the rest. All of the gas stations on the island are clearly marked on the map we provide to our clients.
PASSPORT AND IMMIGRATION
US, Canadian and UK nationals require proof of citizenship, a valid passport, original or certified birth certificate.
VISA REQUIREMENTS
For visa information visit: www.antigua-barbuda.org Cruise Ship passengers who are 'in transit' and stay less than 24 hours are not required to present a visa in Antigua.
TIME ZONE
Atlantic Standard Time = 1 hour ahead of Eastern Standard Time. GMT-4
DEPARTURE TAXES
There is a $20US airport departure tax.
TELEPHONES
Most hotels offer USA direct calling service, or can connect you with an operator for calling home. Phone booths & pay phones are located around the island. Cell phones are available in several retail stores for sale or rent.
EMERGENCY NUMBERS
Police Emergency: 911 or 999
Fire: (268) 464-0044
Sea Rescue: (268) 462-3062